Wild(card) Weekend: The 2023 NFL Playoffs are off to an exciting start!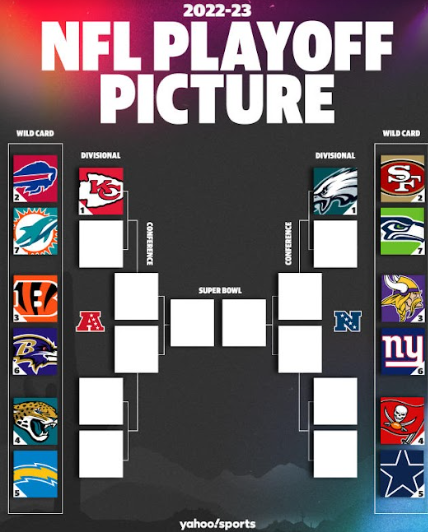 Ty Green, Staff Reporter
January 17, 2023
The first weekend of the 2023 NFL Playoffs did not disappoint.
The San Francisco 49ers took out the Seattle Seahawks in blowout fashion by a score of 41-23. The final game on Saturday amounted to a huge comeback win by the Jacksonville Jaguars. The Jags even trailed 27-0 in the first half, but were able to come back and take the win by a score of 31-30.
On the Sunday slate of games, the Dolphins and the Bills kicked off the action at 1pm. The Bills took the win in a close contest narrowly edging out the Dolphins, 34-31. The second game called for a Christmas Eve re-match with the Giants once again traveling to Minnesota to take on the Vikings. Once again, the Giants were able to edge out the Vikings as underdogs on the road. For Sunday Night Football, the Ravens traveled to take on the Bengals for a thrilling AFC North showdown. However, the Bengals came out on top with a hard-fought win 24-17. The last game of Wild Card Weekend was the Cowboys taking on the Bucs in Monday Night Football. While the Cowboys missed a record breaking 5 field goals, they were still able to come out with a 31-14 win in what could be Tom Brady's final game.
The games are now set for some exciting divisional round matchups! The first game that will take place on Saturday, January 21, is the Jaguars traveling to Kansas City to take on the number one seed Chiefs. The second Saturday game is the Giants traveling to Philly to take on the number 1 Eagles. The Giants are looking to take their first win in Philly in over a decade. The first of the two Sunday games is the Bengals heading to Buffalo to take on the Bills and the second is a classic Cowboys and 49ers matchup at 6:30.