Fights, destruction, sweet notes, and kindness outside the bathroom at Powhatan High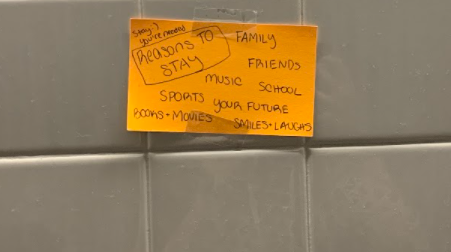 Powhatan High school, Powhatan Virginia
Students at Powhatan High are meeting in the bathroom to fight. The fights are occuring before classes and at the beginning of school. It was getting out of control at the beginning of the year, but now the school is more cautious to prevent them from happening.
The fights are not the only trouble happening in the bathroom, a Tik Tok trend called "A Devious Lick" spread throughout schools across the country. Students destroyed the school's property, ripping off stall doors, soap dispensers, and the trash bin attached to the wall. These vandals threw the soap dispensers in the toilet and it left a huge mess for the janitors to clean.
But not everything that is happening in the bathrooms is violent. Inside the girls bathroom, students are putting sweet notes on the mirrors and doors. Now the notes are being spread around the whole school. The notes are helping boost confidence, and to make everyone's day brighter.
Another effort to bring positivity to our school community is a new club called the KIND club, in which students will make new friends and help others. The club spreads hospitality and grace throughout the school; joining is a good way to service your peers. The kind club will make a positive difference, and it could have a huge impact on students at PHS.