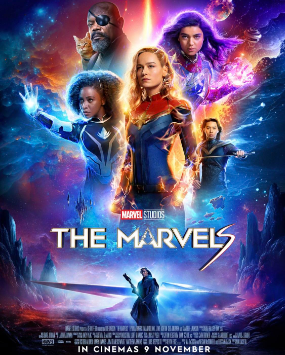 Friday November 10 the newest Marvel movie, The Marvels, was released into theaters. In The Marvels Monica Rambeau (Teyonah Parris), Captain Marvel (Brie Larson), and Kamala Khan(Iman Vellan) have become entangled and everytime they use their powers they switch places no matter the distance between them.They have to figure out how and why their powers are connected, and then work together to save the universe. 
I would rate The Marvels a 4 out of 5. It was a fun watch, although if you prefer older marvel movies that have less science fiction and are more serious such as Thor 1 and 2, the Iron Man series, and the Captain America franchise, this movie may not be for you. However, you should give it a chance for its humorous comedy and realistic action scenes.
This movie is worth watching because there is a lot of character development portrayed. Director Nia DaCosta did such a great job capturing this film. I am so excited to see what direction the studio is taking after this movie and can't wait for the next Marvel movies coming up!