High School and Elementary School Collab!
Recently Powhatan High School and Flat Rock Elementary School have come together in an art collaboration!  This project was a wonderful experience for both grades and is hoped to be repeated in the future.
The elementary school students drew their own "monsters" that the high schoolers brought to life using clay or by making them into stuffed animals. Part of this process was getting to pick which monster the high schooler wanted to make and this was many people's favorite parts. It was very cool to look at the art and think about how the older student's art resembled that many years ago.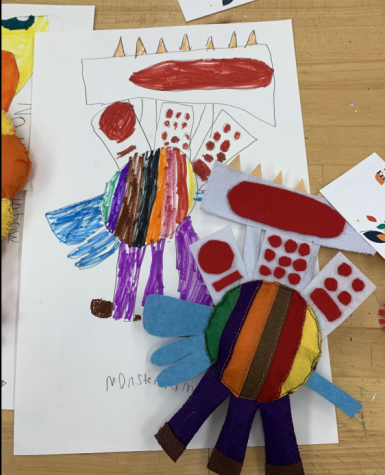 After picking out their monster, the high schoolers got to choose what media to use. One student chose cloth and carefully matched the colors to the drawing. Everyone did so amazing on bringing the monsters to life and the elementary school students were ecstatic at the results.
After the monsters were carefully crafted, the high schoolers got to walk over to the elementary school and present them. The most favorite part of this project was getting to see the kids reactions. All of the second graders were so excited to see what their monsters looked like. The high schoolers got to talk to the elementary school students about their projects and all of the kids loved it.
This has been a favorite art project for many students. It is very memorable and the two schools hope to be able to do this again in the future!