Taylor Swift's "Eras Tour": an entertaining journey through her life
Taylor Swift's "The Eras Tour" has been a success that has taken over headlines and social media posts for the past few months. From completely shutting down Ticketmaster to selling out multiple stadiums, the North American leg of her tour has started out with a bang.
Taylor Swift is an artist that loves to keep fans on their toes, so naturally her setlist hasn't remained the same for every night of the tour. Swift has said that she will change two songs on the setlist for every stop and both of them will be performed acoustic.
Fans look forward to seeing the "surprise songs" that are played each night, hoping their favorites don't get played before they can attend the tour. Here's a look at the general direction her tour has consistently gone in every night that she has performed.
The first time fans see Swift is when she gets rolled to the behind stage area in a cart filled with mops. This has quickly become a meme in the "Swiftie" community and it's something that fans look forward to seeing before the show starts.
The first time fans ACTUALLY see Swift is when she rises up from the middle of the stage singing "Miss Americana and the Heartbreak Prince" off of her 7th studio album Lover. 
Taylor continues to sing more songs off of the Lover album and interacts with the fans before going back under the stage to make her first costume change. One of the highlights of the Lover era during the tour is when the crowd illuminates and makes heart shapes all around the stadium.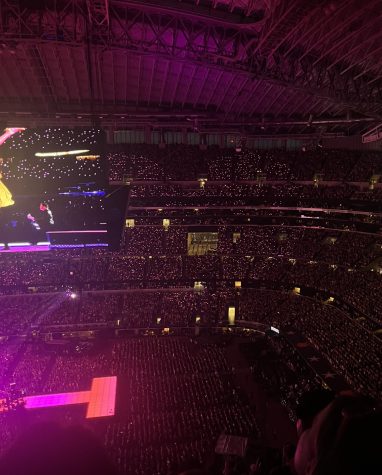 The next time Taylor emerges it's time for the second era out of this 10 album long performance.
During this set she performs 3 songs off of her second studio album, Fearless.
One of the songs during this set has quickly become a fan favorite for surprise proposals. During "Love Story" many people can be seen getting down on one knee and proposing during one of her most romantic songs.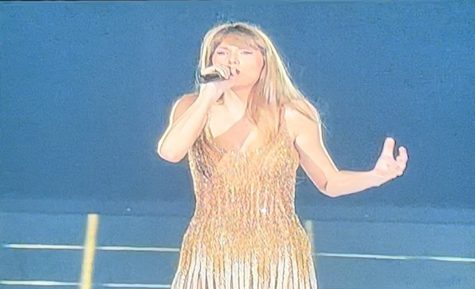 After another quick costume change Taylor comes back on stage ready to perform the Evermore album. The special thing about this album is that it was written over quarantine during the COVID-19 pandemic. No one knew if these songs would ever be able to be performed live and Taylor gives a touching speech about that.
Alongside performing a few fan favorites such as "Champagne problems" and "Willow" Swift also sings a tearjerker called "Marjorie" which is about her late grandmother. There's never a single dry eye in the stadium when that song comes on.
After the peaceful vibes of Evermore fans then see a snake slithering across the screens in the stadium. This can only mean one thing, it's time for her Reputation era.
She ends the reputation set with a performance of "Look what you made me do" and then goes back under the stage for her biggest costume change yet.
Everyone in the stadium is absolutely in awe when Swift emerges for her Speak Now era with a performance of "Enchanted." The dress she wears for this era has quickly risen to fame due to its exquisite details and beauty. The "Enchanted" dress is definitely at the top of this tour's "best dressed list."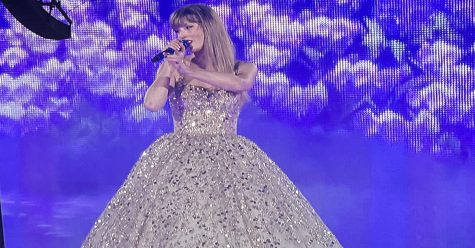 She then performs songs from her Red album followed by other albums Folklore and 1989. After a performance of "Bad Blood" from her 5th studio album 1989 it's time for one of the most highly anticipated  parts of the night, the surprise songs.
She has performed a variety of surprise songs from all 10 of her different albums without any rhyme or reason as to what gets performed each night. In Arlington, Texas she performed "Jump then fall" off of the Fearless album and "The lucky one" from the Red album. After performing two surprise songs on acoustic she dives into the stage to prepare for the last era of the tour.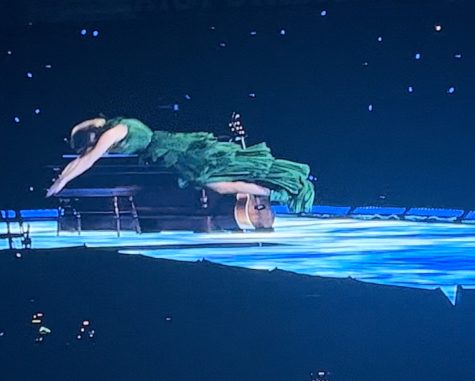 After the incredible transition to her last era it's finally time for swift to perform Midnights. Midnights is Swift's newest album that got released in the fall of 2022. She opened this set with a performance of "Lavender haze" which features an opening lyric that says "Meet me at midnight." This last era ends with a performance of "Karma" and then at last, the 3 and a half hour long show has finally come to an end.
This show has it all. From beautiful costumes to daring transitions and personalized moments with the crowd, Taylor Swift truly puts her all into every show she performs. This unique and exciting performance is one of the reasons it's been an overnight success across the U.S. Fans can't wait to see what else she will pull out of her sleeve on this tour and all of the surprises to come.