Jan. 24 Dinner and Show Choir performances!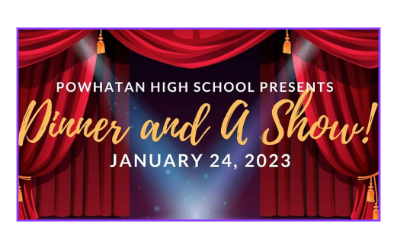 It's time for the Show Choir preview performance! The show takes place on Tues, Jan. 24 and starts at 7 pm. Tickets for just a show will be paid for at the door for 10$. For 25$ you have the option of having dinner and a show. To do so you must use the pre-order form and turn it in by Jan 20. Dinner starts at 6 pm and consists of a variety of options, made and provided by Culinary students and the Chorus boosters. Performing groups include Radiance , Resonance, and One voice !
The Director of the PHS Chorus program is Terrell Dean. He has been a big part in the many years of powhatan chorus successes. Both Radiance and Resonance are accompanied by the Show Band, directed by Steven Barba. 
What is a Show Choir? Show Choir is a form of performing arts where the performers wear costumes and perform choreographed dances on risers while singing popular songs. They are competitive choral groups that participate in various competitions. Show choirs work almost year round perfecting their craft behind curtains from August to January and then competition season begins (January-April).