Powhatan High School Blood Drive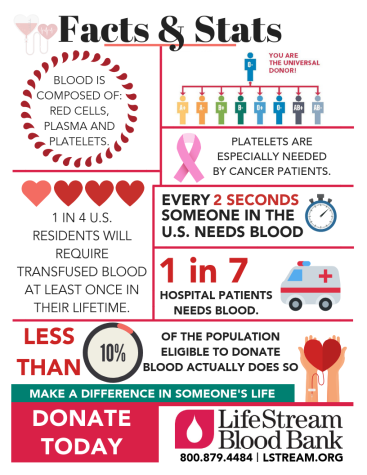 Friday, February 3, 2023 Powhatan High School will be hosting a Blood drive! The drive will take place from 8:00 a.m. to 2:00 p.m. in the Auxiliary Gym.
One donation of blood can save three lives! The donation process is simple. Donating blood only takes about ten minutes. When donating blood, there are four easy steps. First, register, next prior to giving blood a trained staff person will confirm you are able to donate. After confirming you can donate, you will go through the actual donation process and give blood. Finally you will take a moment to have a snack and drink.
Before you give blood, getting a good night's sleep and consumption of iron-rich foods is ideal. While you give, try to relax and wear clothing that can be raised above your elbow. After donation, try to have a hearty meal and avoid physical activity. If at any point you feel unwell or unable to give blood let someone know immediately.
Donating blood has many benefits. Each donation of blood has the ability to save six lives. Donating blood also can lower your blood pressure and lower the risk for heart attacks. There is always a need for blood donors.
This is the first year since the Coronavirus Pandemic Powhatan High School is hosting a Blood Drive. The Student Government Association is hosting the drive, and is hoping for an amazing turnout!