Powhatan Basketball Kicks Off the 2022-2023 Season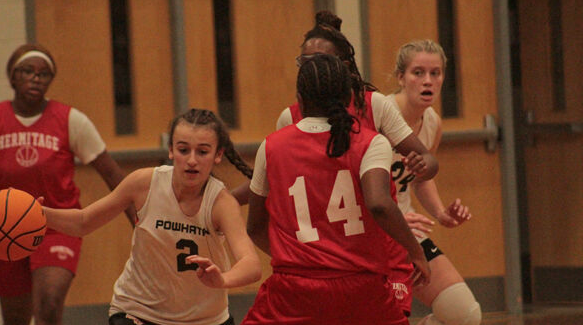 The JV boys basketball team is off to a slow start with a 1-4 record. They took down the bulldogs of George Wythe after a tough loss to Manchester to kick off the season. Since then they have lost two close ones to Goochland and Huguenot, as well as Midlothian. 
The Varsity boys basketball team also started with a tough loss against Manchester, but went on to beat George Wythe in a game that came down to the last second as well as Goochland which was an easy win. Next they took on Midlothian and Huguenot. Both these games were close until the end, but unfortunately the Indians couldn't quite close the gap. The Varsity team has a record of 2-3.
The JV girls basketball team has also started the season slow with a 1-3 record so far. They lost two tough games to Manchester and Midlothian as well as a close one to Goochland. However the tide seems to be turning for them as they secured their first win last Thursday against Huguenot.
So far it seems that the Girls Varsity Basketball team is the one to watch. They have kicked off the season with a winning record of 4-2. After a difficult loss to Manchester to begin the season the team went on to win three straight against George Wythe, Douglas Freeman, and Goochland. After losing to Midlothian they bounced back by beating Huguenot.
Today, December 12, all these teams will take on Monacan. The boys teams will play at home and the girls teams will play away. Both teams also take on James River this week. The girls will play at home tomorrow, December 13, and the boys will play on Wednesday, December 14, away. On Thursday, December 15, the girls travel to take on Caroline and on Friday, December 16, the boys will travel to take on Atlee. We hope you will come out and support these teams by cheering them on this week!