Black-naped Pheasant-pigeon: Hiding or extinct?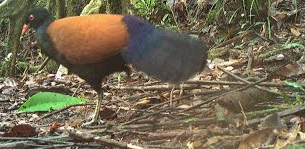 The black-naped pheasant-pigeon was rediscovered in Papua New Guinea by Augustin Gregory after 140 years of scientists believing it was extinct. 
The black-naped pheasant-pigeon is a critically endangered bird and has not been spotted since 1882, when it was first discovered. It is still a mystery how this bird evaded the records and researchers for 140 years. Locals claimed to have heard the bird's call and seen the elusive bird over the decades, but nothing has been proven until now. 
Augustin Gregory, a local hunter, was the person who gave the research team the tip they needed to find this rare bird. Researchers now have footage, captured by a remote camera, of this bird near the Kwama River, Papua New Guinea.
Now the question arises- how many black-naped pheasant-pigeons are left? How can we preserve this rare species? Scientists and researchers are working hard to  try and find a way to conserve and protect this beautiful bird so it doesn't go extinct. 
It will be exciting to see how much we can learn about the black-naped pheasant- pigeon now that it's been rediscovered!