Alice In Wonderland: Coming Soon to a Theater Near You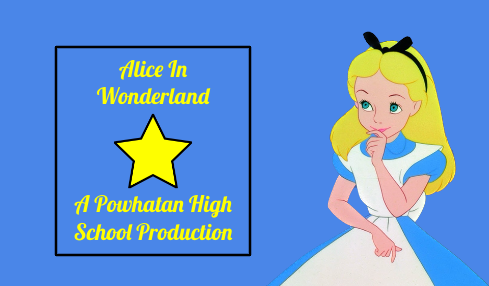 On Friday November 18 at 7:00pm Powhatan High School's production of Alice in Wonderland is taking the stage in the PHS auditorium. Following the opening night performance there will be two showings on Saturday November 19 at 2pm and 7pm and one showing on Sunday November 20 at 2pm.
If you have never heard of Alice in Wonderland before here are a few things you might find interesting about it. It was originally a book published in the year 1865 by British author Lewis Carroll. In 1951 it was turned into an animated film and in 2010 a live action version was released.
It is a story that tells about the main character Alice falling asleep in a meadow and dreaming of following a white rabbit down a hole to wonderland where they have many great adventures. She encounters an immense amount of different creatures and characters, some who are friends while others are foes.
I had the opportunity to talk to Kaitlyn Nicholson who will be playing the part of the Cheshire Cat, a very mischievous character. The Cheshire Cat is a very well known character in the production and is known best for his grin.
Nicholson contributed to the spring 2022 production of Clue as a backstage assistant, and was extremely excited to be a member of the cast for this production. When asked if she had a favorite part of the show she said "I couldn't pick just one". 
She also shared that this production has been in the works since the start of the school year. That's nearly three months of preparation for this show!
The cast consists of around 40 people and that doesn't include people who have worked on set design and will be contributing backstage. 
Tickets are only $8 per person! If you would like to support all the amazing people who have put an exponential amount of time and effort into this production, please come out this weekend to one of the shows.