Jeremy Pena, the Houston Hero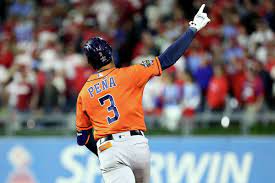 After their star shortstop Carlos Correa left in free agency, the Astros were in need to fill that gap. The Astros called up Maine product, Jeremy Pena, and the rest is history. Pena is a Dominican born athlete who lived there until he attended college at Maine university. Out of high school Pena was drafted by the Braves, but he skipped signing with them to attend college at Maine. After college he was drafted by the Astros in the third round. He spent two seasons in single A, but he had to leave because of covid canceling the minor league season.                                             
He then joined a Dominican winter league where he shined, hitting .306 and was named rookie of the year. He then returned to the minor leagues as the season was reinstated and was promoted to triple A. Pena slapped 10 home runs in just 30 games in his short time in triple A. He was then promoted to the Astros roster and made his MLB debut on Opening day. It didn't take him long to get started in the big leagues, as he hit his first home run with his parents in attendance on Opening Day. With an amazing rookie season Pena finished the regular season batting 253. with 22 Home Runs and 63 RBI. Which helped him make a strong case for Rookie of the Year.
Pena wasn't done yet, as he outshined his regular season play with his playoff heroics. In the Astros World Series run, Pena hit .345 with 20 hits and 4 home runs. In addition to his phenomenal hitting the young shortstop played outstanding defense making numerous diving plays and incredible throws. In his success at helping the Astros win the world series Pena broke several MLB records. He is the first rookie shortstop to hit a home run in the World Series, and he is the first rookie to win a World Series MVP. Pena has arguably had the best rookie season of all time. I think it's safe to say the Astros have a young superstar blossoming in front of their eyes.