A Story Written in Stone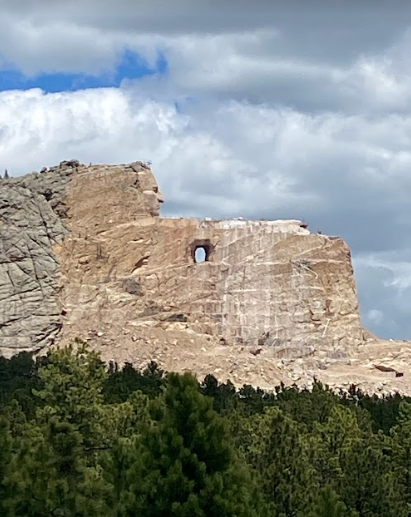 Most people know about the Mount Rushmore national memorial. It's a massive carving on the side of a mountain in the Black Hills region of South Dakota that depicts the faces of George Washington, Abraham Lincoln, Theodore Roosevelt, and Thomas Jefferson. What most people don't know is that not far from this historic carving is another not as famous, but equally important carving.
In the year 1947, a very famous sculptor, Korczak Ziolkowski, began carving a monument depicting Crazy Horse, a member of the Oglala Lakota, as a way of honoring and representing the Native American impact on that area and on the rest of the United States. To this day, the carving is still in progress, but how it came to be is a very interesting story.
Crazy Horse was a leader for his people during a time when land was being fought over and traditional native ways were being threatened and oppressed. He put his tribe's needs above his own, and unfortunately he was killed at Fort Robinson, Nebraska by a soldier on September 5, 1877.
Over half a century later, Crazy Horse's maternal cousin, Henry Standing Bear, a Lakota Chief, was informed that was a monument was to be built at Fort Robinson to honor Crazy Horse.
Immediately after being informed of the construction of this monument, Chief Standing Bear wrote to the project planner, James Cook, and informed him that they wanted the memorial in the sacred Paha Sapa, Black Hills, because they have spiritual significance to the Lakota people. From there, Standing Bear began searching for someone to create the carving.
Through media reports, Standing Bear discovered Korczak Ziolkowski. Ziolkowski assisted Gutzon Borglum in carving Mount Rushmore, owned a successful sculpting studio on the east coast, won the world's fair prize for his sculpture of Ignacy Jan Paderewski, and was a member of the National Sculpture Society. Chief Standing Bear, speaking on behalf of the tribe elders, wrote a letter inviting Ziolkowski to carve the Crazy Horse Monument.
Ziolkowski did accept Chief Standing Bear's offer and began work on this enormous project on May 3, 1947. Ziolkowski worked tirelessly on the Crazy Horse Monument until he died suddenly on October 20, 1982 at the age of 74.
Ziolkowski's wife, Ruth Ross, also made major contributions to the monument by expanding public facilities at the monument as well as establishing both the The Native American Educational and Cultural Center and The Indian University of North America.
Ruth and Korczak's children have continued work on the monument and upkeep on the different buildings at the site of the monument. You can visit the monument and The Native American Educational and Cultural Center in Black Hills, South Dakota.