Human Population Reaches 8,000,000,000
The human population has finally reached 8 billion. Humanity is better off today than ever before with advanced technologies, new medicines, and better education. However, there are still many issues such as struggles with poverty and the impact of climate change.
Millions of people still live in poverty and are not able to know where their next meal will come from. Global poverty has increased due to the pandemic. Using research from the World Bank, Oxfam predicts the growing cost of food prices will push 65 million more people into extreme poverty.
Impacts of climate change can be found in The World Wildlife Fund's biyearly Living Planet Report, which is a global study of the trends in biodiversity, health and impact of human activity on Earth. This year's report shows that species populations have declined an average of 69% since 1970. Our Earth's biodiversity is dramatically declining, which is necessary for our health, economic success and well-being. Many plants and animals face extinction and the main cause is humans through things such as energy production, building of infrastructure and deforestation. Climate change will most likely soon become the main cause for biodiversity loss.
World leaders recently gathered in Egypt for the United Nations Climate Change Conference this year also called COP27 from Nov. 6 and until Nov. 18. They have been discussing ways to reduce greenhouse gas emissions and fight off the worse parts of climate change. U.N. Secretary-General António Guterres warned the world to "sign a climate solidarity pact, or a collective suicide pact."
Countries such as Nigeria, Kenya and Pakistan are disproportionately impacted by the devastating effects of climate disasters. Developing nations are requesting financial support from rich countries so that they are able to escape poverty. They have been demanding that the wealthier countries pay more.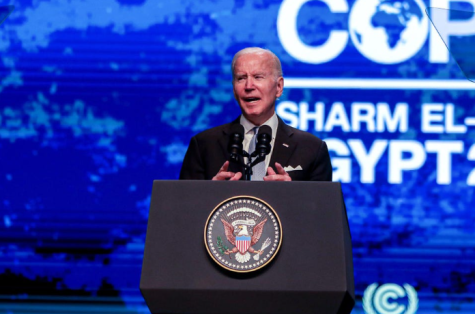 US President Joe Biden acknowledged America as a global leader that must tackle climate change. He said "The climate crisis is about human security, economic security, environmental security, national security and the very life of the planet." Being a large emitter of greenhouse gases, Biden confidently stated that America will meet its plan to lower methane emissions by 2030. 
Though Biden made multiple promises, the US has been criticized for failing to deliver on previous promises. Head of global political strategy for Climate Action Network International, Harjeet Singh said that "The U.S. has no sympathy, has no empathy" and that the "actions and inaction of the U.S. are causing death and destruction."
The World Wildlife Fund notes that "we all have a role to play in building a nature-positive society that safeguards the planet for the good health of everyone." Ukraine's President Volodymyr Zelenskiy told COP27 that "there can be no effective climate policy without peace on the Earth." It is important that all 8 billion of us unite together to make the world better. 
"
There can be no effective climate policy without peace on the Earth."
— President Volodymyr Zelensky