21 Savage "Savage Mode"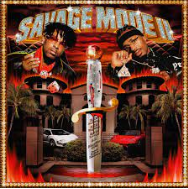 Almost 2 years ago to the day, Atlanta rapper, 21 Savage, released his 8th studio album with production by legendary producer, Metro Boomin, titled "Savage Mode II", the sequel to 21 Savage's third album- "Savage Mode". 
The album contains 15 hard hitting tracks with some amazing features from Drake, Young Thug, and 21 Savage's cousin, Young Nudy. The album also has a surprising feature from Morgan Freeman. The narrations heard during the album are done by Freeman, his deep voice and sense of wisdom paired well with the aggressive and serious tone of the project. 
The first track, other than the Intro, is titled "Runnin." 21 Savage comes in with some pretty generic bars with his normal flow. The track is good, but it's nothing amazing. It just sounds like any other 21 Savage song. Some would even say it's a little boring.
The next few tracks will follow this aggressive and generic tone, however the majority of the album has a more hardcore vibe.
Around track number 3 the vibe sort of shifts. The new mood of the album is refreshing to hear, yet it doesn't last long. Only within two tracks does this mood carry until the album is back to vicious lyrics with trap style beats.
So far in the project, 21 Savage hasn't had any super strong and outstanding tracks until "Snitches and Rats." The interlude narrated by Morgan Freeman builds the energy to the song, as well as the feature from 21 Savage's cousin, Young Nudy. Young Nudy and 21 Savage have worked together on previous tracks in the past such as their 2017 hit "EA."
The mood starts to shift again to a more playful, careless vibe with hits such as "Steppin on ******" and "Brand New Draco." "Steppin on ******"  brings a playful, yet still aggressive mood to the album. This track has an older "G Funk", Eazy E style sound to it, which Metro Boomin executed perfectly. A simple, yet funky beat with record scratching and beat breaks. Both were made famous in the early 90's West Coast hip hop scene that major artists and groups such as N.W.A, RBL Posse, Cypress Hill, Ghetto Boys, etc. influenced. This track is definitely a fun one to listen to.
"Brand New Draco" features some fun word play as well as tongue and cheek bars from 21 Savage such as, "rockin ice like I'm tryna' make a knot go down." This line refers to his many diamond chains and jewelry pieces. Then "shoutout Robert Kraft, fell in love with the cheddar" referring to chairman and CEO of Kraft Group, Robert Kraft and 21 Savage's love for money (aka "cheddar" or "cheese"). This track definitely showcases 21 Savage's ability to apply punchline bars and sillier lyrics to his songs, which is something we don't hear often.  
The project goes through one final mood shift with a more chill, lofi vibe that will carry the listener to the end of the project.
Nearing the end, "RIP Luv" is presented to us. This has to be my all time favorite track on this album. I love the saturated, fried synth loop sample . This track is definitely a more somber song with 21 Savage rapping about lost loved ones, failed relationships, and the bitter side of love. He slows down his flow and changes his tone on this song and in my opinion, that is what makes this track so enjoyable. At the end of this song, we hear Morgan Freeman share some wisdom about relationships that add to the calming, melancholy vibe. 
Lastly, the final song is "Said N Done."  This is a great, more relaxing song and it is perfect for a final track. 21 Savage comes off as calm and reassuring on this song, while he is essentially "signing off" on this track. We also hear Morgan Freeman one last time at the end as he gives the listener words of encouragement and advice just before closing out the album.
Freeman also has a few strong final quotes that really encapsulate the whole project. He tells the listener to "remain focused, move forward, and never lose faith in yourself." Freeman then closes with "until next time, stay in savage mode, because anything else would be too d**n civilized…peace." Which I think is the icing on the cake and the perfect ending to an enjoyable record.
I would give this album a strong 7.5/10. Although some of the songs on this album are generic 21 Savage style songs, you can't fault him. 21 Savage is going to make music that he's known for and that his fans love him for, which is trap style hip hop.
The album's production is also top tier, you really have to tip your hat to Metro Boomin for his musical talent and his ear for sampling and mixing. Also, having Morgan Freeman narrating the album is amazing. I have never heard an actor or someone outside of the music field on a song nevertheless an album, so that is definitely worthy of a few points. I wouldn't go as far as saying this is 21 Savage's best album thus far, but it definitely is a strong project that still stands the test of time, granted it's only 2 years old.
So far, hip hop albums coming out of Atlanta are pretty undefeated, dating all the way back to Outkast and Goodie Mob as well as the many Gucci Mane mixtapes that have been released throughout the last decade, and the multitude of Young Thug and Migos projects. I would strongly argue that Savage Mode II contributes to the hype around the Atlanta rap scene. I would definitely recommend this album to anyone and I encourage you to give it a listen if you haven't already.