10 Fashion Trends for Fall 2022
Fall fashion is officially in the air! It's time to say goodbye to shorts and tank tops and hello to all the new trends for this fall. New york fashion week introduced many styles and items that are influencing the trends this fall. Of course, not all trends come from fashion shows, a lot of them come from social media! Here are 10 trends that will dominate fashion this fall!
1. Anything Cargo
There are a ton of different cargo styles, ranging from baggy pants to more structured pants, to maxi skirts to mini skirts. Cargo is back and bigger than ever!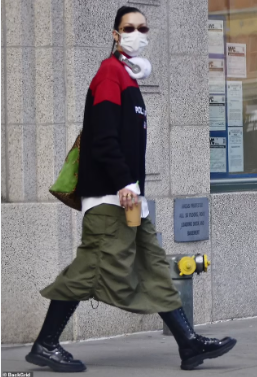 Bella Hadid is seen out in a loose dark green maxi cargo skirt.
(Image credit: elle.com.au)
Where to shop…
ASOS Stradiviarius Straight Leg Cargo Pants
Pretty Little Thing Khaki Parachute Cargo Pants
2. Oversized bomber jackets
Since the temperature is dropping, there's no better way to follow the fall trends then with a oversized bomber jacket!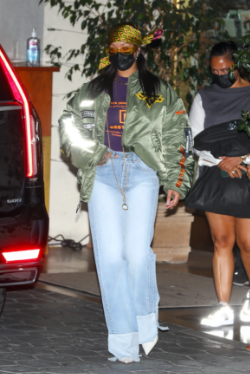 Rihanna in a Vetements oversized bomber jacket.
(Image credit: vogue.co.uk)
Where to shop… 
Nasty Gal Motocross Zip Through Bomber Jacket 
3. Loafers
Loafers have gained a lot of fashion cred recently. We're going to see this classic shoe on many people this fall.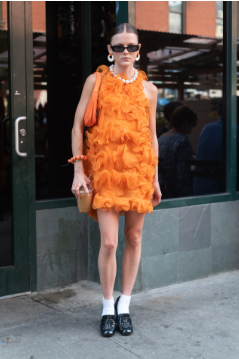 Courtney Mawhorr styles loafers with an orange pollux dress.
(Image credit: thecut.com)
Where to shop…
Nordstrom Adrian Snaffle Loafer
4. Abstract sweaters
Asymmetrical Cutouts, hems and patterns on sweaters are so fun this season!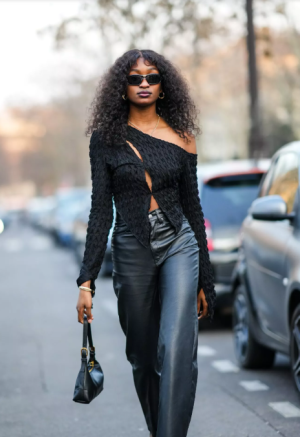 Where to shop…
(Image credit: whowhatwear.com)
Revolve For Love Lemons Keke Cut Out Black Turtleneck 
Far Fetch Andersson Bell Asymmetrical Cut Out Jumper Sweater
5. Birkenstock bostons
I've seen these shoes absolutely EVERYWHERE! There's no escaping them this fall.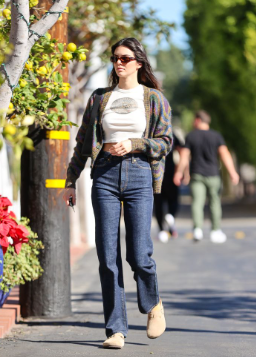 Kendall Jenner in her Birkenstock bostons.
(Image credit: people.com)
Where to shop…
6. Denim on denim 
Denim on denim is making a HUGE comeback. Denim looks are here to stay!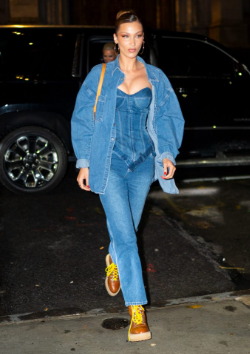 Bella Hadid nailing an all denim outfit.
(Image credit: harpersbazaar.com)
Where to shop…
Nordstrom Abbi Non Stretch Denim Vest and Skirt
Marc Jacobs Denim Large Tote Bag
7. Statement boots
If there is one key item for fall, it's boots. This year, simple boots are out! Time to make a statement.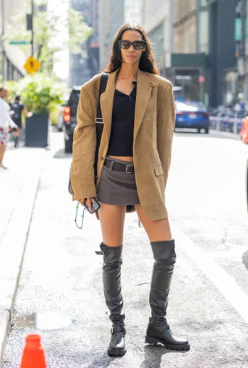 (Image credit: essence.com)
Where to shop…
Steve Madden Viktory Over-the-knee Boot
8. Trucker hats
After falling out of fashion trends in the past, trucker hats have finally gotten back in style this year! This iconic summer trend is making its way into the fall wardrobe.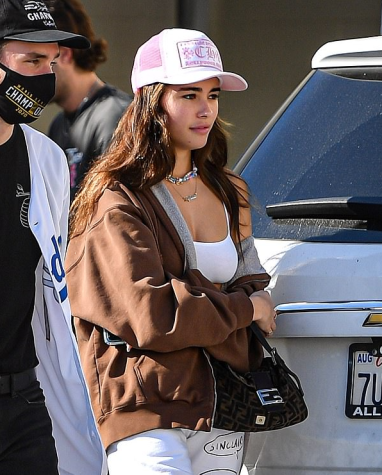 Madison Beer in a pink and white trucker hat.
(Image credit: dailymail.co.uk)
Where to shop…
The May Fair Group "Boundaries are hot" Trucker Hat
Bdgastore Gaze Trucker Snapback
9. Maxi dresses
Long maxi dresses are famous for their breezy and flowy nature in the summertime but, this trend is transitioning into the fall! Satin, crochet, knit and mesh dresses all make a beautiful, effortless look.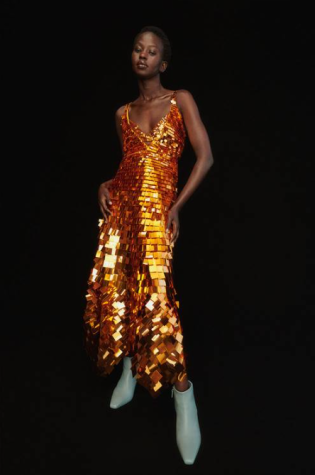 (Image credit: whowhatwear.com)
Where to shop…
Free People Trixie Sweater Maxi Dress
Skims Soft Lounge Long Slip Dress
10. Fur, fur, fur
Last but not least, my favorite of them all, FUR! Anything with fur is perfect for fall fashion. From fuzzy footwear, bags, coats and countless other items!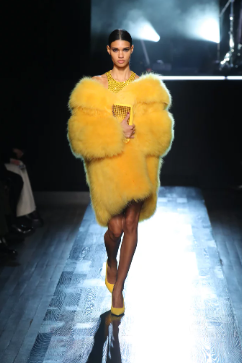 (Image credit: popsugar.com)
Where to shop…
Urban Outfitters Faux Fur Trim Jacket
Jayley Purple Faux Fur Tote Bag
Far Fetch Fur Chunky Platform Mules
I hope you got some inspiration from these 10 trends for your wardrobe this fall!