The Wells family has been in the business of scaring people for years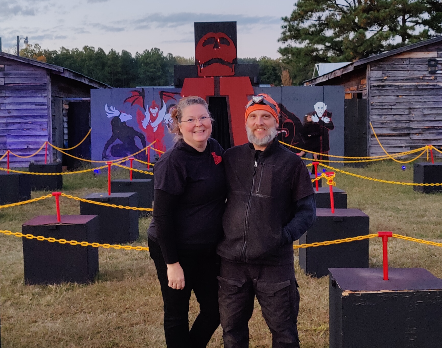 Total Terror is a business run by the Wells family, and they are thrilled to be back in Powhatan for their second year putting on a haunted house at the fairgrounds. I got the chance to talk with Chip Wells, one of the owners of Total Terror. 
"
This is a family business. There is myself, my wife Wendy. I have two sons that are twenty and nineteen, Jake and Sam. Then my daughters are Abby and Hannah, they are sixteen and twelve. Everybody kind of pitches in and has their own talents."
— Chip Wells
Each of the Wells family members contribute to the company in their own special way. They are all so passionate about the haunt and giving people the best scares of their lives. They work on their haunted house almost year-round. As soon as the new year is over, they begin creating spine-chilling effects for next year's terrifying experience. These events have everyone lining up to buy tickets. 
"
It is like an art, it really is. Like a different kind of theater. There really is an art and science to it."
— Chip Wells
The Wells are not wrong, scaring people really is a form of art. The preparation and planning they put into their haunted house each year is tremendous. Not only does the set-up take most of the year, but it takes the right mindset to be in the business. In just a couple seconds, you have to read the room to assess the crowd of people in front of you and find out how to best petrify them. Each person who walks through their haunted house is different and has different fears. It's their job to key in on those fears and terrify every person from the start to finish of their house.
This season will be the second year with Total Terror making an appearance at the Powhatan fairgrounds, but we hope to have them for years to come! You can really see the care and detail they put into their work. We are lucky to have such a passionate and bone-chilling family business right here in Powhatan.