Pink is the new Orange and Black
In October, we wear PINK! October is Breast Cancer Awareness Month. Pink out sporting events have been implemented in schools and teams across the country in order to show their support in the fight against breast cancer, but how did this tradition start?
Why Pink?
Pink represents love, life, and female power. These are some of the thoughts that were used in the implementation of pink ribbons as a symbol for breast cancer.
In 1991, Charlotte Haley, an activist, and breast cancer survivor, created peach colored ribbons in order to raise awareness of the insufficient federal funds for preventing breast cancer. Near this same time, the Susan G. Komen Breast Cancer Foundation handed out pink visors to women who were involved in Race for the Cure races, further solidifying the use of pink.
While this foundation was the first to use pink as a symbol, it was Self Magazine in cooperation with Estee Lauder, the cosmetics brand, that popularized it. Evelyn Lauder, Senior Corporate VP of Estee Lauder and breast cancer survivor, teamed up with Alexandra Penney, Self Magazines editor-in-chief, to raise awareness of breast cancer.
Utilizing the ideas of Charlotte Haley, they decided to create and distribute over 1.5 million pink ribbons and 200,000 pink ribbon petitions in order to push the White House to put more money and effort into breast cancer research.
Support in Sports
While it may not seem like breast cancer and sports have any direct connection, beginning in 2001, many professional sports teams began using their platform to spread awareness and raise money to help fight breast cancer. Soon after, high schools and middle schools began having pink out sporting events to help raise awareness and funds on a more local level.
PHS Pink Out Events
PHS is keeping this pink out tradition alive this year through multiple, upcoming fall sporting events:
Varsity Football- 10/28 (Home vs. Midlothian)
(Other sporting event dates will be updated throughout October)
So this October, help spread breast cancer awareness by wearing PINK!
"How Pink Became The Color Of Breast Cancer Awareness Month." Square Cow Moovers, squarecowmovers.com/how-pink-became-the-color-of-breast-cancer-awareness-month/.
Kimble, Mason. "The History of Breast Cancer Awareness Month in Sports." MadSportsStuff, 30 Sept. 2019, www.madsportsstuff.com/blogs/sports-socks/history-of-breast-cancer-awareness-in-sports.
View Comments (1)
About the Contributor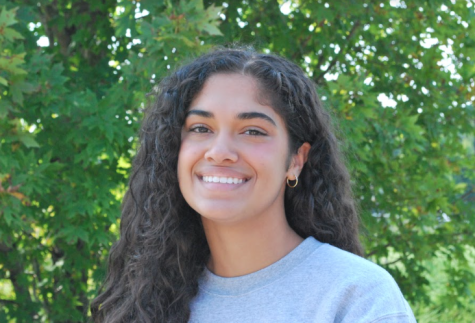 Chesed Russell, Staff Reporter
Chesed Russell is a senior at Powhatan High School. She is a Staff Reporter for the Arrowhead. She is also a Captain on the PHS Varsity Volleyball team....