From a Powhatan farm during segregation to Harvard for an MBA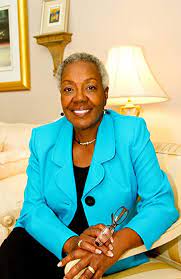 Lillian Lincoln Lambert is the first African American woman to receive an MBA from Harvard Business school.
She set up a zoom call with our faculty to tell our school her story,The story of who she is, what she accomplished and what contributed to her success today.
Lillian refers to her life now as the "American dream" even through the many hardships she has faced. Lillian grew up here in Powhatan County, with both her parents and 4 other siblings.
She graduated in 1958 from what was then, Pocahontas High School. During this time segregation still existed so this was the all black school. Initially, she didn't want to attend college, so after graduating she moved up north and worked at a under-paying job. She eventually went back to the place she knows as home and her path began to change as a family-member helped push the idea that education was important, the same way her mother encouraged the fact that
"
"Knowledge is power."
— Lillian Lincoln Lambert
Soon enough Mrs. Lambert attended night-school classes at Howard University. These night classes did not last long as she decided to become a full-time student at the university and focus on her academics. Through the next four years, Mrs. Lambert began to hear remarks from people in her life, such as her professor, that she should apply for graduate schools, one being Harvard Business school.
As undergraduate graduation approached, she applied to Harvard Business school just because others would say she was smart enough to be admitted. She would have to take the GMAT test and pass to be able to be accepted. She found out that she got a low score so she wasn't accepted. After she found out, she took it as a challenge. She then retook the test and passed. She was then accepted.
This was just the beginning of the story Mrs. Lambert and how she made history. She is a now an author and entrepreneur that shares her story hoping to inspire others.